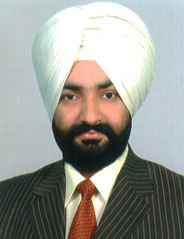 Macro Hi-Tech Dental Lab
is one of the most prestigious labs of northern India , rendering satisfactory and quality services to dental surgeons since 1995.
The lab is fully equipped with all modern technologies like PFM (with and without die cutting), Zirconia Crown & Bridges, Metal Free Pressable Ceramics Crown & Bridges, Press on metal crown & bridges, Veneers, In lay, On lay, Implant Restorations, Flexible Partials & Full Dentures, Injection moulded acrylic dentures, Cast Partials with attachment technique, Bleaching Treys & Night guard formers and many more, using materials of standard international companies.
Pushpinder Singh is a Qualified Dental Lab Technician from Rajasthan Vidyapeeth Deemed University , Udaipur .
In order to keep up the quality at par with International Labs, Pushpinder Singh (Rinku) has attended many National & International Certificate courses from time to time, like extensive training from DFS & BEGO Academia Dental, Germany about PFM crown and bridges work, Cast Partial with attachment technique & Metal Frame work.
From UGIN France And DENTSPLY Asia Training Centre Hongkong about Metal free, Press on metal ceramic, PFM crown & bridge work, Veneers, Onlay & Inlay, from DENTSPLY Asia Training Centre Hongkong about flexible partial dentures. He got rigrous training in Implants from Indian academy of Ossiointegration Delhi .
We are a team of well qualified, trained& experienced technicians, who work very hard.
Pushpinder Singh

Senior Dental Technician & Ceramist
Ex-Lab Technical Consultant of Dentsply India

Certificate Course in Cast Frame Work from DFS, Germany

Certificate Course in Cobalt Chrome Dentures from BEGO Academia Dental, Germony

Certificate Course in All Ceramic & Press on Metal from UGIN, France

Certificate Course in Flexi Dentures, All Ceramic and PFM from Dentsply, Hong Kong

Certificate Course in Implants fro Indian Academy of ossiointegration, New Delhi